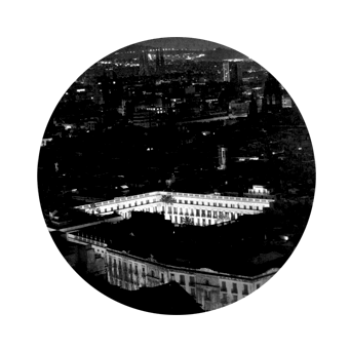 2017 2nd term
Adjunct Lecturer
University of Virginia · Barcelona Program
UPC
"The construction of modern city in Barcelona"
Coordinator: Josep Parcerisa
The students will understand the urban history of Barcelona from the very first modern transformations in 19th Century to its present configuration: the theoretical and practical development of the Cerdà Eixample and its evolution, the urban renewal that resulted from the 92' Olympic Games and a critical approach to the ongoing urban transformations will be studied in this class.
The course is organized in five blocks. Each of them consists of two theoretical lectures at school and a field trip around some key places of Barcelona. Seminar discussions will be also part of each session. The students are asked to produce a graphic interpretation of the different urban subjects that will be discussed in the course. The final assignment should be a precise contribution made of original drawings and written arguments. The students will be evaluated by a final public PPT presentation of 20 minutes length.
PROGRAM
04.09 presentation
LECTURES Streets at the beginning of modern city. The Ferran-Princesa axis
Regent's street in London. Rue Rivoli in Paris
Reading: MSM 38-86 / JB 111-115
11.09 free day
18.09 ON SITE THE OLD DENSE CITY (walking tour)
Ramblas Liceu / Real sq. / Ferran & Boqueria / Sta. Maria del Pi church & sqs. / St. Jaume sq. & Just i Pastor Church / Via Laietana & the roman walls/ Sta Catalina market / Allada-Vermell, new sq. / Ribera district & Sta Maria del Mar /Pla de Palau
25.09 LECTURES Geography as a framework for the metropolis.
The new town of Gràcia: growing state by state.
Reading MSM 158-204 / JP 242-257
02.10 ON SITE FROM THE HILL, DOWN TO THE NEIGBORHOODS (bus V17 + 24)
Lesseps, JF Library / Finca S.Salvador-Jujol / Carmel / Turó de la Rovira: batteries and Mülberg st. / Through Park Güell / Gràcia squares.
09.10 LECTURES Eixample plan: a theoretical project.
Practical success in two steps. The "second man"
Reading: MSM 276-330 / JB 122-141, 176-184 / JP 142-151
16.10 ON SITE THE CORNERS & THE 3RD SPACE IN THE CERDÀ BLOCK
(walking tour)
Cotxeres Borrell & Sant Antoni market / C. Martinell gardens / Facility at Urgell st. / GG publishers / Ca la Maria bed & breakfast
23.10 LECTURES BCN as a capital city (1903 1923). Catalunya sq. Via Laietana & Balmes.
In the shadow of Jaussely. Le Corbusier and GATCPAC
Reading JP 52-63, 74-87, 64-73 / MSM 382-404 / JB 189-204, 220-229, 248-263
30.10 ON SITE MONTJUÏC. 1929 WORLD'S FAIR & CASTLE (walking + public transport)
Espanya sq. / the castle and the parks / Miró Foundation / MNAC / Greek theater / Mies Pavilion / Casarramona
06.11 LECTURES Focusing on the seabord, overturning the city (1992 2004)
Reading JP 196-209 / JB 391-404
13.11 ON SITE FROM THE PORT TO THE COAST (by cycle)
Moll de la Fusta / Barceloneta / Olympics / Parc de les dunes / Poblenou / Diagonal mar / Forum 2004 / Besós
20.11 seminar
27.11 final presentations